SLIDE INTO
SUMMER CONTEST!

POST TO WIN
1. NexGrille Portable Grill
2. Grateful Market Spatula
3. Months Supply of
Grateful Sliders
#slideintosummer

Slide Into Summer Contest
Show us how you are going to #slideintosummer! Create a fun and unique video or picture using Grateful Market Products! Show us your culinary skills and creative minds!

2. Get Creative & Cook it Up!
Create a fun & unique video, reel or picture using Grateful Market Products! Check out the examples below!

Submit your video by posting on instagram, tagging & following @eatgrateful and using #slideintosummer!
---
GRAND PRIZE WINNER
NexGrille Portable Grill, Grateful Market Slider Spatula & A Months Supply of Grateful Sliders.

RUNNER UP
Grateful Market Slider Spatula & A Months Supply of Grateful Sliders!
Slide-Into
Creativity Contest

Get Creative & Get on Camera!
Plan out your submission it can be either a pic or video. Have fun with it, we are looking for something truly unique. Check out some fun examples below!

Submit your video by posting on instagram, tagging @eatgrateful and using #slideintosummer!
Check out these picture examples from some of our favorite fans!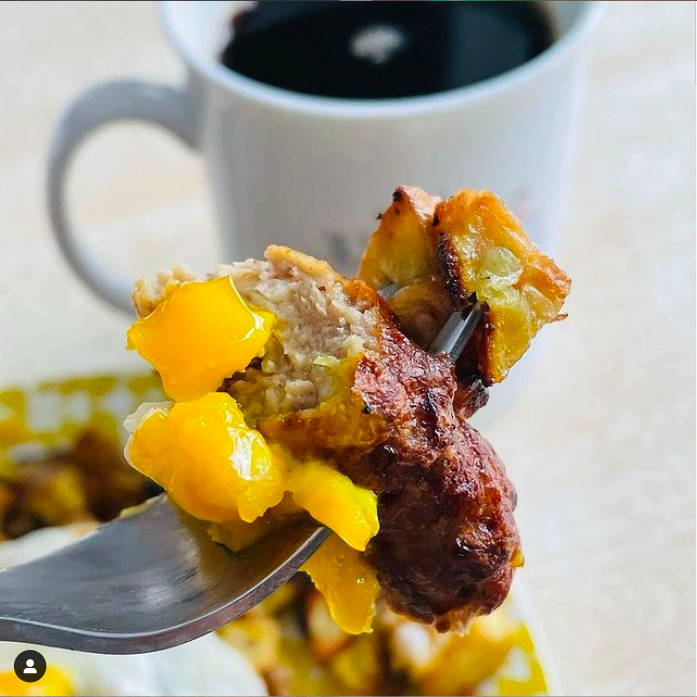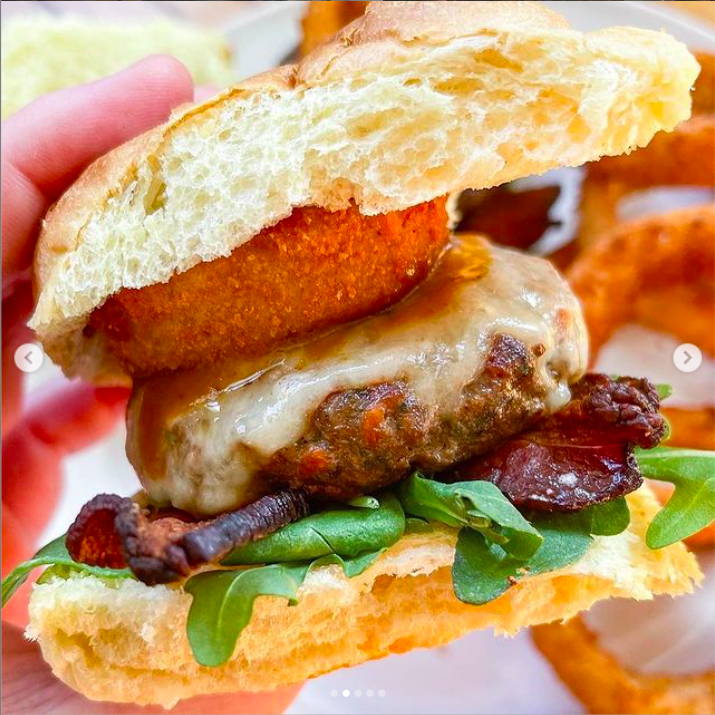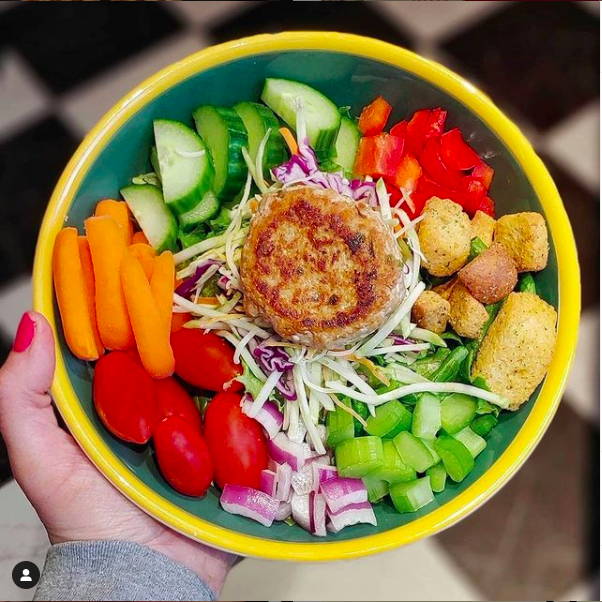 ---
How to make the perfect video: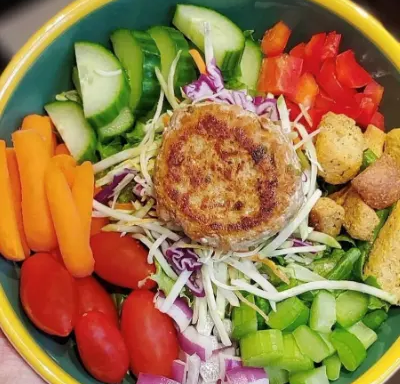 1. Plan out your ideas before you get started!
2. Get Creative! We aren't looking for a masterpiece - just something that expresses your personality! It can be a picture or a video!
3. Cook up your Grateful Market Sliders, Burgers or Meatballs!
4. Have someone there to help! Teamwork makes the dreamwork!
5. Need inspiration - Check out some videos from our creative Friends & Fans.
Contest Rules & Regulations
The following promotion is intended for the 50 United States and D.C. only and will be construed and evaluated according to United States laws. Do not proceed in this site if you are not a legal resident of the 50 United States and D.C. and 21 years or older.
GRATEFUL MARKET SLIDER INTO SUMMER CONTEST
OFFICIAL RULES
A PURCHASE DOES NOT INCREASE YOUR CHANCES OF WINNING. OPEN TO LEGAL RESIDENTS OF THE 50 UNITED STATES AND D.C., 21 YEARS OF AGE OR OLDER. VOID IN PUERTO RICO AND WHERE PROHIBITED.. This contest is not sponsored or endorsed by Instagram, Whole Foods Market, Hannaford Supermarket, Shaws Supermarkets or NexGrille.
1. How to Enter: Beginning at 9:00 a.m. Eastern Time ("ET") on May 5, 2021 until 9:00 p.m. ET on June 5, 2021 (the "Promotion Period"), you may enter the SLIDE INTO SUMMER CONTEST (the "Promotion") by purchasing Grateful Market Products either online or at your local supermarket, creating an entry(video or picture) with the products, and submitting them via Instagram by tagging @eatgrateful and using the hashtag @slideintosummer. All entries must be received by 8:59:59 p.m. ET on June 5, 2021 to be eligible. The timestamp on each post will determine if post were submitted before the deadline.  
2. Submission Requirements: Submissions for the Promotion must consist of: (i) Grateful Market products, Grateful Sliders, Grateful Burgers, or Grateful Meatballs that are available online and in stores. (ii) A photo or video that shows the product being used in a unique and interesting way, such as an alternative recipe or in a unique presentation. (iii) Submissions must submitted on Instagram tagging @eatgrateful and using the hashtag #slideintosummer. The entry of a Submission is Entrant's acknowledgement that Entrant has read, understands and will abide by these Official Rules.
All Submissions become the property of Sponsor and will not be returned. If you are selected as a Prize Winner, you will be contacted by Grateful Market Marketing team to facilitate shipping of the prize package. Incomplete and/or late Submissions will be disqualified.
Completed Submissions that are created and received within the above-mentioned guidelines shall collectively be referred to herein as the "Eligible Entries".
The Submission must be consistent with the image and values of Grateful Market and must not include: (a) any third parties, including but not limited to minors, celebrities, and friends, who have not expressly authorized entrant to display their image or likeness; (b) any content that violates any third-party rights, including, but not limited to, copyrights or trademark rights or rights of publicity or privacy; (c) defamatory language or threatening language; (d) language or content that is sexually explicit, obscene, or indecent; (e) language or content that promotes the consumption or abuse of alcohol, tobacco, or drugs; (f) any other language or content that promotes bigotry, racism, hatred or harm against any group or individual or promotes discrimination based on race, sex, religion, nationality, disability, sexual orientation or age; (g) contain material that is threatening to any person, place, or business group; or (h) contain words or symbols that are widely considered offensive to individuals of a certain race, ethnicity, religion sexual orientation or socioeconomic group or that Sponsor determines is inappropriate in Sponsor's sole discretion and/or does not otherwise meet the Submission requirements.
Limit of one (1) entry per eligible person during the Promotion Period. If multiple entries are received, only the first entry will be accepted and additional entries will be disqualified. Any attempt by you to obtain more than one (1) entry by using multiple/different accounts, identities, registrations or logins, or any other methods, may void your entries and you may be disqualified from the Promotion. Any use of robotic, repetitive, automatic, programmed or similar entry methods or agents (including, but not limited to, contest entry services) will void all entries by you. In the event of a dispute as to any online entry, the authorized account holder of the account used to enter will be deemed to be the Entrant. The "authorized account holder" is the natural person assigned an email address by an Internet access provider, online service provider or other organization responsible for assigning email addresses for the domain associated with the submitted address. Potential winners may be required to show proof of being the authorized account holders.
This Promotion is not sponsored, endorsed, administered by, or associated with Instagram. You understand that you are providing information to Sponsor and not to any applicable social media site.
3. Representations and Warranties: By making a Submission, you represent and warrant that: (a) the Submission is an original work created solely by you; (b) you own all rights to the Submission and have obtained any necessary third-party clearances; (c) the Submission complies with all requirements of these Official Rules; and (d) you understand that other Entrants may submit original Submissions that are substantially similar to yours in content and that you shall not have any claim against Sponsor arising out of any such similarity.
4. Eligibility: This Promotion is open only to legal residents of the 50 United States and D.C., who are 21 years of age or older as of the Promotion start date. Void in Puerto Rico and where prohibited. Employees and members of their households and immediate families (spouses, parents, grandparents, siblings, children and each of their respective spouses) of the Promotion Entities (as defined below) and their respective parent companies, subsidiaries, and affiliates, and their advertising and promotion agencies and all local sponsors are not eligible.
5. Limitations of Liability: Sponsor, Grateful Market, CW NESSEN FOODS LLC, or other participating sponsors, their respective affiliates, subsidiaries, parent, advertising and promotion agencies, and their respective officers, directors, shareholders, employees and agents, and any and all Internet servers and access provider(s) are not responsible for: any incorrect or inaccurate entry information; human error; technical malfunctions; failures, omission, interruption, deletion, or defect of any telephone network, computer online systems, computer equipment, server providers, or software, including any injury or damage to your or any other person's computer relating to or resulting from participation in this Promotion; inability to access the Website; theft, tampering, destruction, or unauthorized access to, or alteration of entries; transactions that are processed late or incorrectly or are incomplete or lost due to computer or electronic malfunction or traffic congestion on the Internet or at any web site; printing or other errors; and any entries that are late, lost, incomplete, misdirected, stolen, mutilated, illegible or postage due, or any combination thereof. Online submission is not considered proof of delivery or receipt. All entries become the property of Sponsor and will not be returned. Sponsor reserves the right to conduct a background check on any potential winner and reserves the right in its sole discretion to disqualify any person based on such background check if Sponsor determines in its sole discretion that awarding the Prize to such potential winner might reflect negatively on Sponsor or any of the Promotion Entities. By entering, you also agree to release, discharge, indemnify and hold harmless the Promotion Entities, Instagram LLC, and their respective parent companies, subsidiaries, their respective representatives and agents, advertising and promotion agencies, promotion partners and Prize suppliers, and all of their respective affiliated companies, employees, officers, directors and shareholders, from and against all claims and damages or liability arising in connection with your participation and/or entry in the Promotion and/or your receipt or use of any Prize awarded in this Promotion or due to any injuries, damages or losses to any person (including death) or property of any kind resulting in whole or in part, directly or indirectly, from acceptance, possession, misuse or use of any Prize or participation in any Promotion-related activity or participation in this Promotion. Except where prohibited by law, the winner's entry and acceptance of the Prize constitutes permission for the Promotion Entities to use said winner's name, photograph, likeness, statements, biographical information, voices, Submission and city and state addresses on a worldwide basis, and in all forms of media, in perpetuity, without further compensation. No more than the advertised number of Prizes will be awarded. You further understand and agree that all rights under Section 1542 of the Civil Code of California ("Section 1542") and any similar law of any state or territory of the United States that may be applicable with respect to the foregoing release are hereby expressly and forever waived. You acknowledge that Section 1542 provides that: "A GENERAL RELEASE DOES NOT EXTEND TO CLAIMS THAT THE CREDITOR OR RELEASING PARTY DOES NOT KNOW OR SUSPECT TO EXIST IN HIS OR HER FAVOR AT THE TIME OF EXECUTING THE RELEASE AND THAT, IF KNOWN BY HIM OR HER MUST HAVE MATERIALLY AFFECTED HIS OR HER SETTLEMENT WITH THE DEBTOR OR RELEASED PARTY." The releases hereunder are intended to apply to all claims not known or suspected to exist with the intent of waiving the effect of laws requiring the intent to release future unknown claims.
6. How Winners will be Determined: After the Promotion Period, the Grateful Market Team will evaluate all Submissions and select two (2) Prize Winners based on the following Judging Criteria: (a) Creativity of the Post (b) Originality of the post; (c) Presentation of the Post and. Submissions will be judged as submitted and will not be prepared or tasted by the judges. The highest scoring post will receive the Grand Prize while the second highest scoring post will receive the Runner Up Prize.
Notwithstanding any other provision of these Official Rules, if at any time during the Promotion Period, the judging rounds or at any time thereafter, the Sponsor determines that no eligible entrants exist from which to determine the Prize Winners, then Sponsor may in its sole and exclusive discretion determine that no eligible contestants exist, and then may either suspend or terminate the Promotion or modify it (or any parts thereof) in any equitable manner that Sponsor deems appropriate in its sole and exclusive discretion, including, without limitation, by not awarding any one or more of the Prizes set forth in these Official Rules.
8. Prize Conditions: If Sponsor is unable to contact a Prize Winner within five (5) days from first notification attempt, if the potential Prize Winner does not pass Sponsor's background check (in Sponsor's sole discretion), or if a Prize Winner fails to comply with any of the requirements, his/her Prize will be forfeited and an alternate prospective winner shall be selected by selecting the next-highest scoring Submission in the applicable category.
The Prize Winners will be notified by email, telephone, and/or overnight mail delivery on or around June 25, 2021, to be determined by Sponsor.
9. Ownership of Submissions: By submitting a Submission, you acknowledge and agree that: (a) Sponsor is the sole and exclusive owner, in perpetuity and throughout the world, of all right, title, and interest in and to your Submission, including, without limitation, all copyright, trademark, and other proprietary rights in and to the Submission (and all renewals and extensions thereof now or hereafter provided by law) and all the rights therein and thereto; (b) ownership of the Submission shall inure to the benefit of Sponsor from the date of conception, of creation, or of fixation in a tangible medium of expression (whichever occurs first), of such Submission; (c) your Submission is a "work made for hire" (as that term is used in the United States Copyright Act of 1976, as amended); (d) to the extent that your Submission is not a work made for hire, you hereby assign to Sponsor all right, title, and interest in and to the Submission and all copies thereof that you may have or obtain without any further consideration, free from any claim, lien, balance due, or rights of retention thereto, on your part; (e) you waive all claims to any and all moral rights in the Submission including, without limitation, your right of attribution and integrity; and (f) Sponsor may exploit the Submission (and all rights therein) in any manner throughout the world without restriction of any kind, or payment to, or consent from, anyone. Sponsor reserves the right to modify or edit the winning Submission for content including all copyrights and trademarks, and Promotion Entities or their assigned agent(s) will have the right to reproduce, publish, adapt, modify and/or revise the Submission, in its sole discretion, in any manner or form throughout the world, in perpetuity. Sponsor will own all rights to the winning Submission.
10. Conditions of Entry: Entry materials that have been tampered with or altered are void. If, in the judge's or Sponsor's opinion, there is any suspected or actual evidence of electronic or non-electronic tampering with any portion of the Promotion, or if computer virus, bugs, unauthorized intervention, fraud, or technical difficulties or failures compromise or corrupt or affect the administration, integrity, security, fairness, or proper conduct of the Promotion, the Sponsor reserves the right at its sole discretion to disqualify any individual who tampers with the entry process and void any entries submitted fraudulently, to modify, suspend, or to terminate the Promotion and proceed with the judging process, as outlined in the "How Winner will be Determined" section to award the Prizes using all eligible, non-suspect entries received as of the termination date. Should the Promotion be terminated prior to the stated expiration date, notice will be posted on the Website. CAUTION: ANY ATTEMPT BY AN ENTRANT TO DELIBERATELY DAMAGE THE WEBSITE OR UNDERMINE THE LEGITIMATE OPERATION OF THE PROMOTION MAY BE IN VIOLATION OF CRIMINAL AND CIVIL LAWS AND SHOULD SUCH AN ATTEMPT BE MADE, SPONSOR RESERVES THE RIGHT TO SEEK REMEDIES AND DAMAGES (INCLUDING ATTORNEY'S FEES) FROM ANY SUCH ENTRANT TO THE FULLEST EXTENT OF THE LAW, INCLUDING CRIMINAL PROSECUTION.
11. Prizes: The Grand Prize winner will recieve a NexGrille Portable Grill, Grateful Market Slider Spatula and 6 Slider Packs of the flavor of their choosing. The Runner up winner will receive the Grateful Market Slider Spatula and 6 Slider Packs of the flavor of their choosing. Shipping costs of each prize will be included in the prize.
12. Disputes/Governing Law: All issues and questions concerning the construction, validity, interpretation and enforceability of these rules, or the rights and obligations of any entrant or the Promotion Entities in connection with the Promotion, shall be governed by and construed in accordance with the laws of the State of Maryland without giving effect to any choice of law or conflict of law rules or provisions which would cause the application or the laws of any jurisdiction other than the State of Maryland. Any action or litigation concerning this Agreement shall take place exclusively in the federal or state courts sitting in Montgomery County, Maryland, and you expressly consent to the jurisdiction of and venue in such courts and waive all defenses of lack of jurisdiction and inconvenient forum with respect to such courts. Any and all disputes, claims, and causes of action arising out of or in connection with this Promotion, shall be resolved individually, without resort to any form of class action. You agree to service of process by mail or other method acceptable under the laws of the State of Maryland. ANY CLAIMS, JUDGMENTS AND/OR AWARDS SHALL BE LIMITED TO ACTUAL OUT-OF-POCKET COSTS ASSOCIATED WITH ENTERING THIS PROMOTION. YOU (HEREBY WAIVE ANY RIGHTS OR CLAIMS TO ATTORNEY'S FEES, INDIRECT, SPECIAL, PUNITIVE, INCIDENTAL OR CONSEQUENTIAL DAMAGES OF ENTRANT, IDENTIFIABLE PERSONS, OR THIRD PARTY PARTICIPANTS, WHETHER FORESEEABLE OR NOT AND WHETHER BASED ON NEGLIGENCE OR OTHERWISE.
13. Winner List: Beginning on or about September 25, 2021 you may obtain the name of the Prize Winners by going to the Website.
14. Sponsor: CW NESSEN Foods LLC Beverly MA 01915.
15. Administrator: CW NESSEN Foods LLC Beverly MA 01915.